"O Sleeper, Awake!" was a great opening chapter, full of mystery and menace to draw the reader right in.
[quote]Again a trembling finger warned for silence. The hound outside was no longer howling. He whimpered, as with an evil dream, and then that sound, too, died away in silence, in which the yellow-haired man plainly heard the straining of the heavy door, as if something outside pushed powerfully upon it. He half turned, his hand at his sword, but the man in the ermine robe hissed an urgent warning: "Stay! Do not break the chain! And on your life do not go to the door!"[/quote]
I've always wondered what exactly was happening with the door: what were the "shapes of darkness" that followed Xaltotun from the Doors of Hell? Was it magical atmospheric pressure? Some "things" of the Outer Dark forcing through? Was the very state of reality being altered by the spell? Howard doesn't tell us, nor should he, as the ambiguity makes it all the more unsettling.
I also found this bit of foreshadowing quite interesting.
From First Chapter, "O Sleeper, Awake!"
[quote]"I was Xaltotun," he whispered. "I am dead."
"You are Xaltotun!" cried Orastes. "You are not dead! You live!"
"I am Xaltotun," came the eery whisper. "But I am dead. In my house in Khemi, in Stygia, there I died."
"And the priests who poisoned you mummified your body with their dark arts, keeping all your organs intact!" exclaimed Orastes. "But now you live again! The Heart of Ahriman has restored your life, drawn your spirit back from space and eternity."[/quote]
From Final Chapter: "The Road to Acheron"
[quote]"He was not a living man," she said. "The Heart lent him a false aspect of life, that deceived even himself. I never saw him as other than a mummy."[/quote]
Pretty convincing "aspect of life" if his resurrection caused him to break open his mummy bandages, and the conspirators felt "firm muscular flesh, vibrant with blood and life". I guess it means Zelata is just really, really perceptive, since Xaltotun does seem for all intents and purposes "alive", or gave an
extremely
effective impression of it.
[quote]But they lifted him upon the table, and Orastes clothed him in a curious dark velvet robe, splashed with gold stars and crescent moons, and fastened a cloth-of-gold fillet about his temples, confining the black wavy locks that fell to his shoulders.[/quote]
Reminds me of...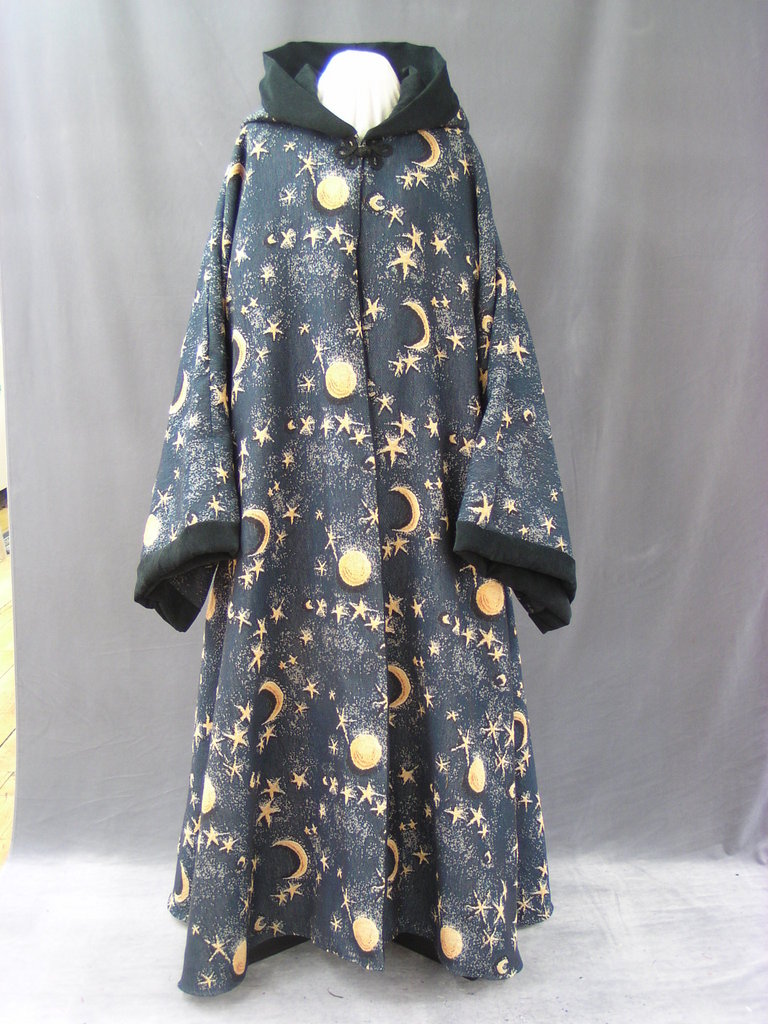 Where did the "stars and crescents" motif for wizards come from? Is it based on mythological or folkloric designs, or is it the work of later authors (Dunsany, Smith, Peake?) It might seem rather goofy for a series sorcerer to wear robes more associated with party magicians, but remember that many similar fairy tale tropes had much darker origins than Disney would have you believe.
[quote]He let them do as they would, saying nothing, not even when they set him in a carven thronelike chair with a high ebony back and wide silver arms, and feet like golden claws.[/quote]
First order of business to resurrect a wizard, apparently, is to get him pimped da hell up: luxurious cloths, check; customized crib, check; obscene jewelry, check. All Xaltotun needs is a goldfish cane and a pink fedora and he's ready to roll.
[quote]"No; he is a Cimmerian, one of those wild tribesmen who dwell in the gray hills of the north."
"I fought his ancestors of old," muttered Xaltotun. "Not even the kings of Acheron could conquer them."[/quote]
Pretty impressive, since the Acheronians seem to have literally
earth-shattering
magics and plagues, one wonders how even the Cimmerians resisted them. It's possible the Acheronians couldn't be bothered conquering the land itself (then again, why would the Aquilonians set up Venarium if it was worthless?), or that it had problems elsewhere that required their attention. I wonder if Crom got in the way of Set's magic: not on behalf of the Cimmerians, but more a "Ho You, Get Off Mah Land!" to Set and his minions. That's if Crom even exists, of course.