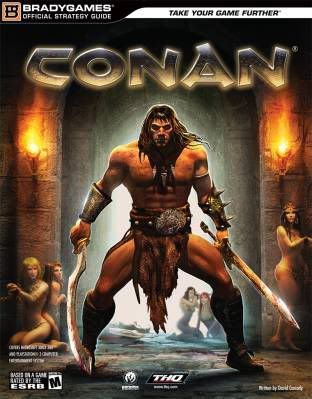 A Song of Death and Steel

Conan?s thirst for treasure and fame freed the monster-wizard Graven, but Conan lived. Guide Conan to retrieve the lost pieces of his armor and gain the power to strike Graven down. Conan the slayer has come: let the ground run red with blood!

From the savages of the Barachan Isles to the civil war of Argos, our COMPREHENSIVE WALKTHROUGH guides Conan through the perils and pleasures of Hyboria.

From start to finish, use our LEVEL MAPS to discover all the secret areas, activate all the rune triumvirates, and rescue every captured maiden.

Decimate Conan?s enemies with unparallel precision with Conan?s ATTACK STRINGS, COMBO CHAINS, and PARRY KILLS.

Get descriptions and strategies of the soon-to-be-dead with detailed ENEMY LISTS.

All the Secrets, Achievements, Unlockables

Platform: PlayStation 3 and Xbox 360
Genre: Action/Adventure
This product is available for sale worldwide.

Product Details
Paperback: 144 pages
Publisher: BRADY GAMES (October 17, 2007)
Language: English
ISBN-10: 0744009448
ISBN-13: 978-0744009446
Product Dimensions: 10.7 x 8.5 x 0.4 inches
I do not own the
Conan
game ? or a system to play it on ? but on an impulse I went ahead and bid and won this book on ebay for under $5. It finally arrived today and like the description above states, this book will obviously help you maximize the Conan and Hyborian Age video game experience. But, what I found inside was a really cool surprise.
The Frost Giants Daughter ? by Robert E. Howard ? a complete reprinting. The story is broken up in 11 different sidebars throughout the book and is complemented with art by Cary Nord from his adaptation of FFG with Dark Horse's
Conan
comic.
At the end of the story, the following paragraph directs readers to the Del Rey editions:
Read all the adventure-filled Conan stories in the ultimate Conan editions, published by Del Rey: The Coming of Conan the Cimmerian, The Bloody Crown of Conan and the Conquering Sword of Conan. You can also follow Conan?s adventures in the monthly comic from Dark Horse comics.
I thought it was very cool to see a REH Conan tale inside this strategy guide! Kudos to CPI for not missing an opportunity to present Robert E. Howard?s Conan to fans of a pastiche product. The onus is on the fans to explore more if they want ? but at least the information is available.
The strategy guide also has a 2 page map of the Hyborian world with a note that it is based on the maps REH created. It looks like the Mongoose map for the Conan RPG.
Also, the book reprints 15 selected pages from the DK Publishing book
Conan the Phenomenon
.
When you add in the helpfulness of the guide, the awesome screen shots, the original Robert E. Howard story, the map and the great cover ? this is one of the best looking Conan books I ever purchased for $4.06!