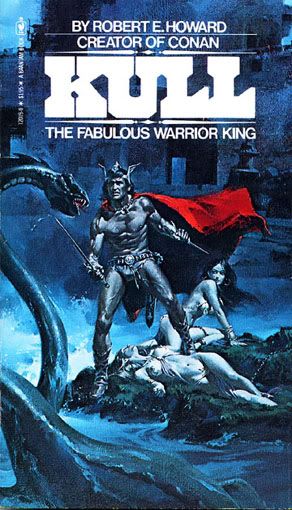 Bantam
Year : September 1978
Book No. : 0-553-12019-0-1
Edition : 1st
Format : Paperback
Pages : 190
Cover art : Lou Feck

Contents:

"Introduction" by Andrew J. Offut
"Prolog"
"Exile of Atlantis"
"The Shadow Kingdom"
"The Altar and the Scorpion"
"Delcardes' Cat"
"The Skull of Silence"
"By This Axe I Rule!"
"The Striking of the Gong"
"Swords of the Purple Kingdom"
"The Mirrors of Tuzun Thune"
"The King and the Oak" (poem)
"The Black City" (fragment)
"Untitled" (unfinished)
"Untitled" (unfinished)
"Epilog"

Notes:

Removes editing changes made by Lin Carter for the Lancer edition.
Contains a map of Kull's world drawn by Tim Kirk.
Cover has a fold-out poster.

Info from Howard Works website:
howardworks.com/kullm.htm
Had an great day book hunting today - found this old Kull book. I don't think the use of the "fabulous' adjective has aged well.
Cool poster fold out by Lou Feck and the Kirk map is something I have wanted for awhile. I liked the introduction by Mr. Offutt - it dispenses with the scholarly approach to Kull and instead unabashedly lists why Kull is his favorite REH character over Conan, Cormac and the rest. I've read many intros by many different people and can never remember reading such an amazing and simplistic tribute as the one Andrew J. Offutt gives REH in this intro when he glosses over REH's death and instead proclaims:
REH lives.
Kudos to Offutt - he's absolutely right.
Edited by Strom, 21 June 2009 - 11:44 AM.