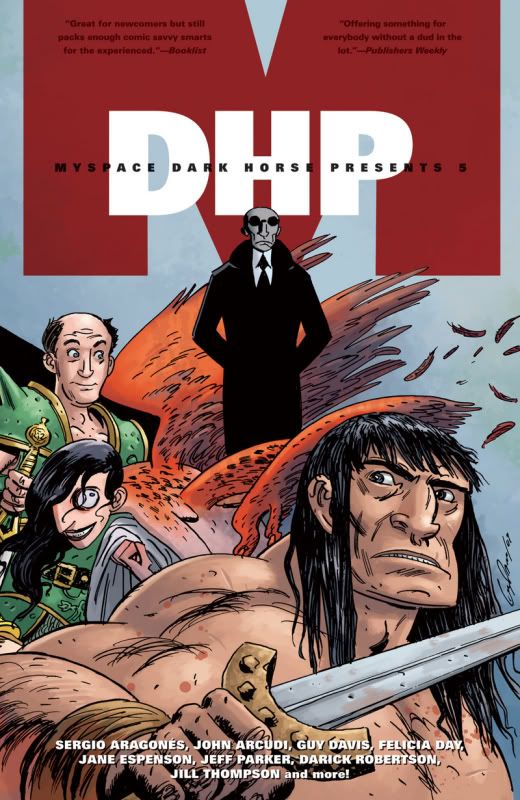 MYSPACE DARK HORSE PRESENTS VOLUME 5

Various (W/A)

On sale Aug 4
FC, 168 pages
$19.99
TPB, 7" x 10"

MySpace Dark Horse Presents Volume 5 continues to exhibit the greatest comics creators in the biz alongside the newest newbies trying to break in: Buffy the Vampire Slayer Season Eight makes another appearance with newly popular vampire Harmony in a tale from one of the series writers, Jane Espenson . . . Conan brings bloodshed and barbarism as only he can with writer and artist Darick Robertson . . ]Another Robert E. Howard character, Solomon Kane, gives Eisner Award?winning artist Guy Davis a chance to show us his take on the Puritan warrior . . . Dean Motter?s Mister X presents a mystery . . . Matt Kindt?s Giant Man continues his saga . . . And then we have the newbies: A sweet story with sweet birdies . . . A scary story with scary birdies . . . A Jekyll and Hyde meet Sherlock Holmes mystery . . . A tragic tale that makes you really feel for all those mythical horrors . . . A crossdimensional superhero anecdote that will make you laugh . . .
You know what? That?s not even all of the good stuff jam packed into this volume of modern superdiversity! Don?t miss out on MDHP Volume 5!