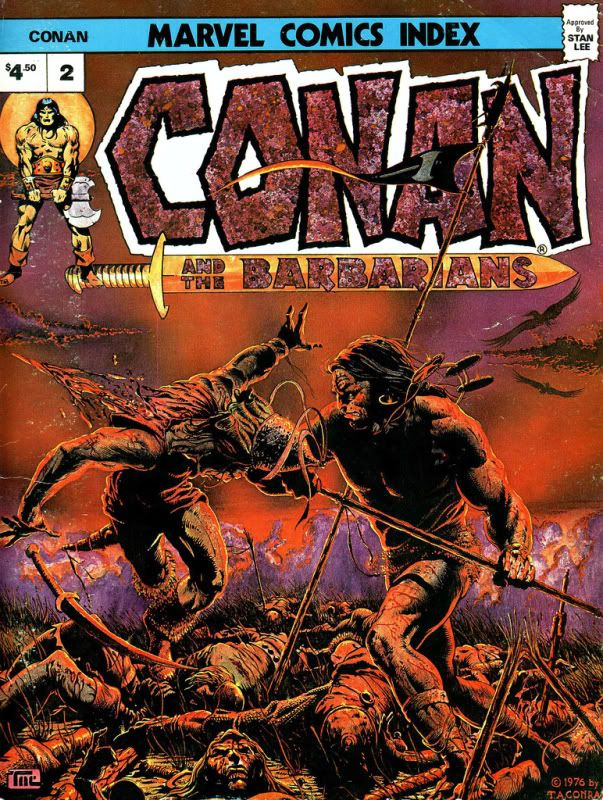 This is a great cover by Tim Conrad I have never seen before! According to Wikipedia, Marvel Comics Index series preceded the Official Marvel Index:
The Official Marvel Index is a series of comic books released by Marvel Comics which featured synopses of several Marvel series. The books were largely compiled by George Olshevsky (who was for fourteen years the sole owner of a complete collection of Marvel superhero comics from Marvel Comics #1), and featured detailed information on each issue in a particular series, including writer and artist credits, characters who appeared in the issue, and a story synopsis. A similar series of indices was published for DC Comics.

The Official Marvel Index was preceded by the Marvel Comics Index (by Olshevsky) and distributed by Pacific Comics Distributors sporadically from 1976-1982. These books were magazine-sized as opposed to comic-sized.

This issue - #2 - covers:
Marvel Comics Index #2 - Conan and the Barbarians (March, 1976) - Synopses of Conan The Barbarian #1-61 and Annual #1, Giant-Size Conan #1-5, Savage Sword of Conan #1-10 and Annual #1, Ka-Zar (1st series) #1-3, Ka-Zar (2nd series) #1-15, Kull the Conqueror #1-15, Kull and the Barbarians #1-3, Savage Tales #11 and Annual #1, Chamber of Chills #1-21, Chamber of Darkness #1-8 and Special #1, Monsters on the Prowl #9-30, Tower of Shadows #1-9 and Annual #1, Creatures on the Loose #10-37, and Worlds Unknown #1-8