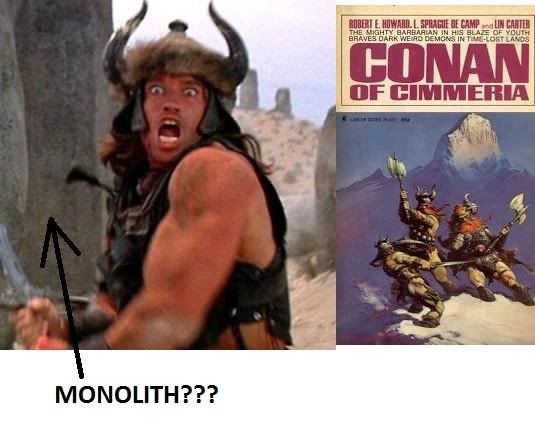 [Note this is a 18pg. short story written only by De Camp and Carter, most notably published in the 1969 paperback "Conan of Cimmeria" (pictured above) but maybe in a scant few other places as well]
So I'm not a Howard purist and someone who usually tries to put the best spin on the words of Non-Howard authors but still this one didn't do much to blow my skirt up…
Spoiler-free review (synopsis follows):
Even though this is a short piece, so little actually happens in it that it's also kind of a non-story too. There's an intro/set-up, a little build-up, then the main "action"/danger comes and goes into an abrupt ending before you know it.
Like others might note, Conan doesn't particularly feel like Conan. In the dialogue scenes, he seems a bit more like a dumb brute than he should. Apart from this and the fact this his strength comes into play a little, you could replace him with any character from Indiana Jones to the Prince of Persia – and the story would feel basically the same, have the same effect.
And though I appreciate that there are some pretty brief but more-or-less still genuine moments of suspense/excitement as Conan is facing the main threat of the story – overall, the enemies and circumstances of the piece do not seem up to a level of adventure that we would expect for him. Again, partly that's because it ends so soon – perhaps if the story continued further with a second climax or something, it might feel at least a little more "worthy".
In the end, the whole thing is just kind of "there". Not really deserving of a recommendation or the opposite. Maybe read it just once to say you have, but if you never do you're basically not missing anything at all.
---

Brief, vague synopsis (MINOR SPOILERS):
Conan, as a mercenary soldier, is leading men through a mountainous area that is also near hilly plains. They are camped out among the rocks, when a Jafar-like foreign emissary he is traveling with approaches him. Appealing to the barbarian's greed, the dignitary talks Conan into sneaking away from the group to procure a hidden treasure that only he is aware of.
They stalk through the night, finally reaching a monolith/flat-rectangle of stone sticking up from a grassy mound. As they approach, something happens that leaves Conan trapped. He struggles against what has ensnared him to no avail as suddenly something else starts happening that is even more of a threat/terror. After many tense moments, Conan prevails over the situation. Before he returns to his men, he makes sure the villain of the piece get his and that he retains the object of his original mission for the King. As he orders his men to flee the camp – the story ends.
Edited by amiableakuma, 02 March 2012 - 03:22 AM.